From the gentle hills of the Valdelsa to the steep inclines of the 
Montalbano, the Empoli Valdelsa region has many cycle paths for cycling fans and for professionals, ideal for mountain and city bikes. The majority of routes proposed are on asphalted roads or on minor "white" roads which are not signposted. Download our GPS coordinates or equip yourself with a good map to be sure not to get lost!
Attention, please: the following itineraries are provided by the Ride Montaione website. Toscana nel cuore cannot be held responsible in case of variations, due to natural events or other. The user assumes the responsibility of following the paths at his own risk.
---
Mountain bike – Anello "Gli Orti"
Distance: 6.6 Km – Average time: 45″ – Height: 211 mt – Difficulty: Easy – Asphalt: 78% – Dirt track: 22%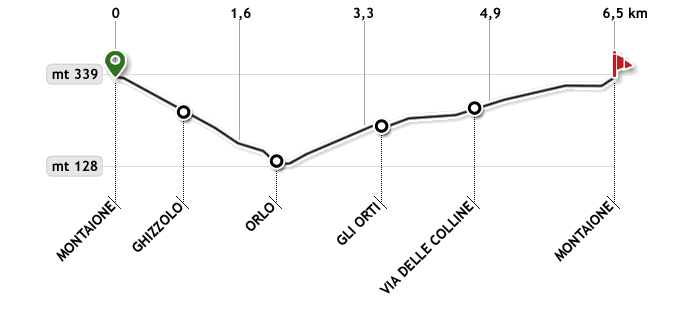 Download the route description in .pdf format
Download the route in .kml format
Download the route in .gpx format
---
Mountain bike – Route 3
Distance: 11.7 Km – Average time: 1h – Height: 172 mt – Difficulty: Easy – Asphalt: 57% – Dirt track: 43%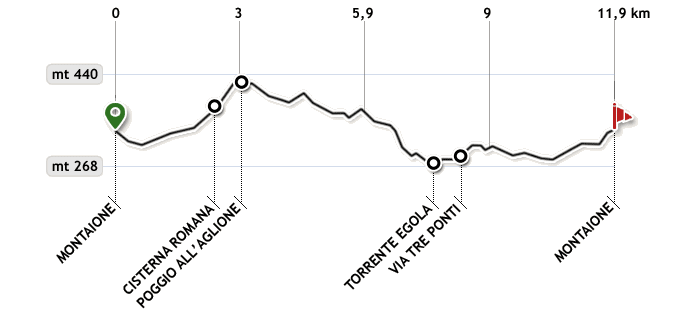 Download the route description in .pdf format
Download the route in .kml format 
Download the route in .gpx format
---
Mountain bike – Anello "Sughera"
Distance: 15.5 Km – Average time: 1h 25″ – Height: 171 mt – Difficulty: Easy – Asphalt: 51% – Dirt track: 49%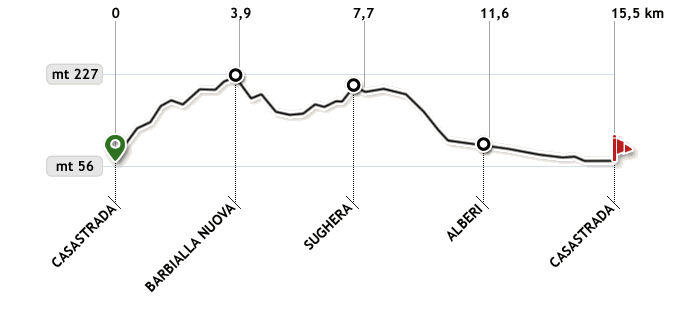 Download the route description in .pdf format
Download the route in .kml format 
Download the route in .gpx format
---
City Bike – Route 1
Distance: 60.1 Km – Average time: 2h 30″ – Height: 363 mt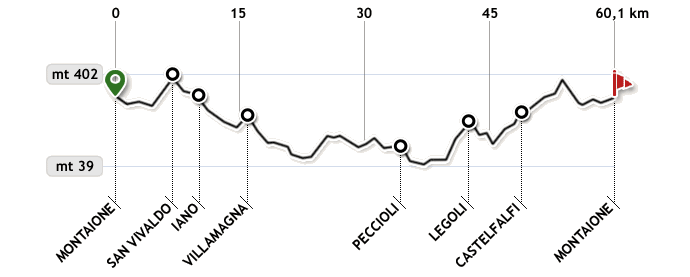 Download the route description in .pdf format
Download the route in .kml formt
Download the route in .gpx format
---
City Bike – Route 2
Distance: 69.7 Km – Average time: 2h 35″ – Height: 413 mt

Download the route description in .pdf format
Download the route in .kml format 
Download the route in .gpx format
---
City Bike – Route 3
Distance: 43.8 Km – Average time: 1h 50″ – Height: 456 mt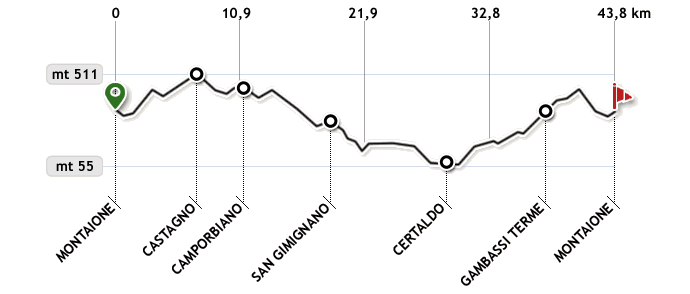 Download the route description in .pdf format
Download the route in .kml format 
Download the route in .gpx format